Chelsea Bravo: An Eclectically Minimalist Brand Based In The UK
There aren't many #melaninASS brands that incorporate menswear, but we interviewed Chelsea Bravo for her self-titled sustainable fashion brand! This UK-based contemporary designer creates thoughtfully designed and made menswear and gender neural collections that give us all of the melaninated urban chic vibes. This designer whole heartedly believes that sustainability is working in harmony with our planet and environment, not against it. Bravo presents her collections with the most alluring imagery and is visually changing the narrative of conscious style. This vibrantly minimalist designer is simply inspired by LIVING and is well on her way to transcending the industry.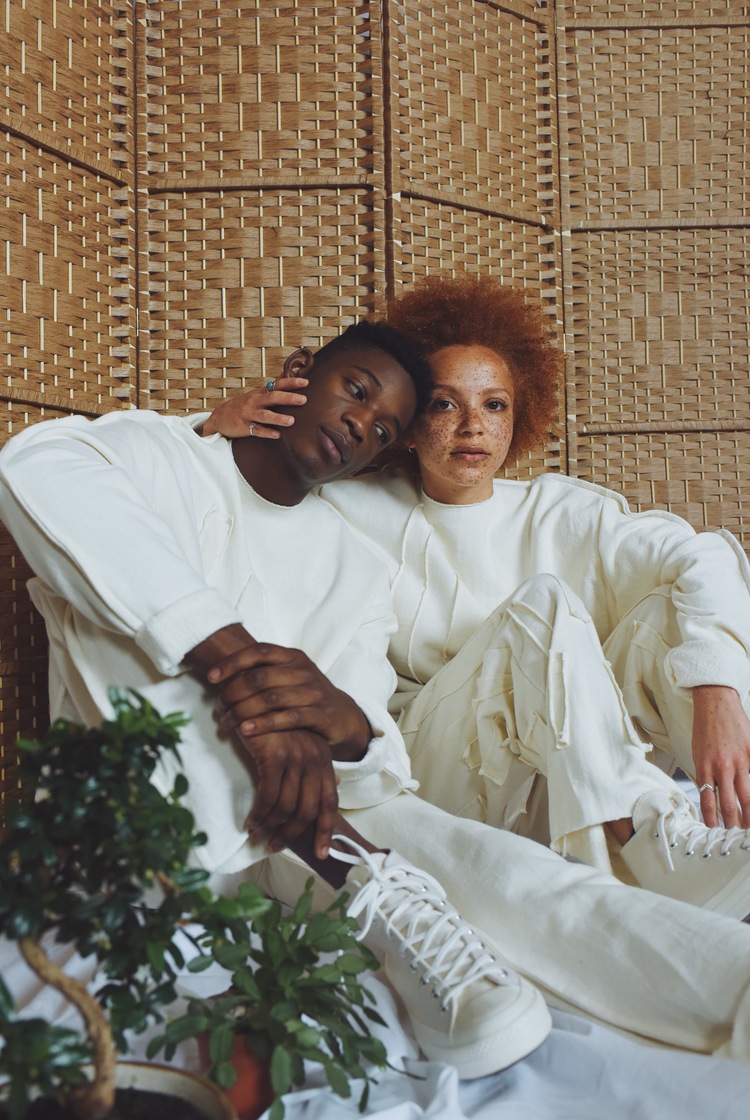 When did you first get introduced to hemp and why is it currently your fabric of choice?
I came across hemp for the first time early Summer 2016 whilst searching for organic cotton. I came across a source offering hemp in a french terry, which is basically sweatshirt material. I was vaguely aware of hemp in the context of food and hadn't really come across hemp fabrics before, I was intrigued by it and really wanted to use a sustainable material for the gender neutrals collection so I went ahead and ordered a swatch booklet. The booklet came through about a week later and I was astonished at how great the fabrics felt and all the different varieties of weaves available. I was expecting the fabrics to feel quite rough but they just felt like your every day cottons, denims, silks and jerseys but more stronger and durable in nature. That coupled with it's low to zero impact on our earth and environment, my mind was blown and I wondered why hemp wasn't being used more so than cotton. Hemp requires 20% of the amount of water used to grow cotton…20%. It doesn't require any harmful chemicals such a pesticides and herbicides, which is what makes it our most sustainable and environmentally friendly plant. The fabric is also incredibly durable, soft and has great qualities such as being anti-bacterial and thermo-dynamic - it's truly a stellar material.
The fabrics that I am using currently are all sourced here in the UK, however the suppliers source the fabrics come from Asia, Asia being the greatest manufacturer of Hemp and also carries a rich history with the plant and material. My favourite fabric to work with is currently hemp! Although, I'd like to find sources with a range of different colours to choose from. In general my favourite fabrics to work with are fabrics that are derived from a natural source, I love the texture and feeling of a natural cloth - it's rich, breathable and has life to it unlike synthetic cloths.
How does sustainability play a role in your lifestyle?
In my lifestyle sustainability plays a role through my eating and shopping habits and even how I look after myself, so my well-being and state of mind. I try my best to shop local, I'm really lucky to have a vast array of fruit and veg suppliers laced along my entire street where I live, so I do most of my food shopping right on my doorstep. I only eat foods that I know are nutritious and good for my body, most of my diet consists of fruit and veg with a few sneaky treats added in! I have a massive selection of canvas tote bags for food shopping and just shopping in general, I do my best to avoid using plastic bags and I try to reuse and recycle as much as I can in my household. When buying goods I no longer go for cheap things that I know is not going to last, I'd rather save up and buy something of quality which I know I'll get longevity out of. I just really don't like throwing things away due to them falling a part or no longer working and I avoid creating WASTE as much as I can. I'm aware of how much waste we have going to landfill every day and this really displeases me. I find that sustainability goes hand in hand with mindfulness. Being mindful and by cultivating a state of mindfulness I find that you'll quite naturally begin to live more sustainably, with more care and consideration for those around you, yourself and your environment.
Is there a growing sustainable fashion market in the UK?
I feel that sustainability within the food and shopping market has grown tremendously in the UK over the last year and I feel this is slowly running over into fashion too. I don't know how big of a sustainable market we have here in regards to fashion, I still feel that it's quite small because of the way the consumer views sustainable fashion. I feel that there is still this stigma attached to sustainable fashion however, it is slowly changing and people are gradually becoming more interested and open to it. At the same time I think there's still more education to be done on it for the customer and also making them aware of the great brands on the market really doing something special and providing a strong product that feels contemporary and stylish - not just your everyday basics.
Explain a bit of your journey as a menswear and nexus gender neutral brand...
I started off as a menswear brand as I felt that the womanswear market had it all and there was a freedom to design anything for women and it could run. However, I didn't find this design freedom in menswear and found it to be a really boring and restricted place when it came to design, I wanted to address this as a designer and open up what could be available for them. When I was graduating menswear wasn't how it is now, now we have a contemporary market, the space between tailoring/formal wear and casual/streetwear. At the time of graduating the contemporary menswear market was just starting out and I really wanted to be a part of that shift - offering pieces that could be worn casually or smartly but still look really cool and fresh, it's just a matter of how the person styles the pieces. I transitioned into unisex and offering womanswear pieces as a result of the amount of women who were a fan of the brand and the pieces wihtin the collections and still are! I also feel that clothes have no gender so why should we restrict
What are the biggest challenges you face in this industry?
My biggest challenge I've faced is getting the brand out there into the public, being recognised, noticed and then valued without financial backing or sponsorships and industry support. There's SOO many designers and brands on the market especially now in 2017. With the rise of Instagram, it can be easy to generate a following but at the same time challenging to cultivate a GENUINE following of people that really value and resonate with what you're doing enough to go and spend their money on your product. It's been amazing to see the e-commerce business pick up over the last two collections and nice to make that breakthrough, it's been affirming for me that I'm on the right path doing things my way.
Has being a woman of color (positively or negatively) impacted your fashion sensibility and/or your commitment to sustainability?
Being a woman of colour I feel has had a positive impact because there's been a rise in our community of really showing up and owning who we are and what we do in the world and supporting one another. I feel that I get support from other creatives and people of colour when they meet me, see my work and brand especially because all my models have been models of colour so far, I feel people have recognised that and champion that.
What has been your greatest achievement thus far?
I can't really pinpoint my greatest achievement because I feel everyday is an achievement. I have fought through a lot of challenges with self-doubt and self-worth and there have been a number of times when I thought I couldn't do this. So to wake up each day and do what I love and for it to be doing well and progressing with each collection is an achievement for me and is something that I am so grateful for.
What is your overall MANTRA in one sentence?
My overall mantra in one sentence is: YOUR WAY IS THE RIGHT WAY.